"IN THIS FUNKY, COLOURFUL, AND OVER THE TOP WORLD I'VE CREATED WITH IMAGINATION, THERE ARE NUMEROUS DETAILS OF TRADITIONAL FAR EAST PHILOSOPHIES AND CONTEMPORARY WESTERN POINTS OF VIEW, MIXING WITH MUSIC, SCIENCE FICTION, POEMS, INDUSTRIAL ENGINEERING, DANCING, MATHEMATICS, NATURAL SCIENCES, MANGAS, STREET ART, AND MANY OTHER SEEMINGLY UNRELATED CULTURES. ONE WAY OR ANOTHER, SOMEHOW I'VE MIXED ALL MY 'WEIRD' PERSONAL EXPERIENCES INTO MY COLLAGE CREATIONS. "

"FOR ME, ONE PIECE OF COLLAGE IS LIKE A FULL-LENGTH FILM. EACH ELEMENT IS LIKE A SINGLE SHOT (IN THE FILM). I SELECT EACH ELEMENT CAREFULLY AND COMPOSE THEM IN A CERTAIN WAY, TO MAKE THE FINAL PIECE TELLS A COMPLETE, MEANINGFUL YET FUN STORY."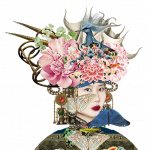 All my digital collages are made with my own photographs, public domain archives and royalty-free pictures.
Todos mis collages digitales están hechos con mis propias fotografías, archivos de dominio público e imágenes libres de derechos.


Shakespeare's The Winter's Tale

SPRING IN A POLYGONAL PRISM
FAN DE FANTASTICA® All Rights Reserved 2020 - 2022 | www.FANDEFANTASTICA.com